Bought one of these CDs? We welcome your opinion. Send an email to fairwayproductions@att.net with the title of the CD in the subject.
"envisage"

A re-release of envisage recently made the Billboard Jazz Charts, remaining for many months. With Jay are Milt Hinton on bass and Bob Rosengarden on drums.
In "Envisage" we experience "a direct example of Jay's "feel" and easy connection with the highly noted members of the trio, bassist Milt Hinton and drummer Bob Rosengarden. We hear the communication that is the nexus of jazz ensemble performance, providing an effortless listening experience."
Jay D'Amico affords each piece a polished conception: you can follow the thread through the arranged fabric.

"FROM THE TOP"

Exquisite solo piano renderings by the enormously creative and talented Jay D'Amico. Putting this in your CD player is an ideal way to treat yourself to a relaxing and enjoyable musical experience.
"Jay D'Amico has been dazzling our audiences for the past five years and has become a permanent fixture at Windows on the World."
| | |
| --- | --- |
| | Toni Aigner, President, Windows on the World |
"Jay D'Amico displays an exquisite touch, impeccable timing, and a remarkable sense of harmonic inventiveness. He is one of the most promising young pianists around today. "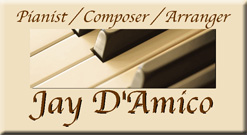 "PONTE NOVELLO"

"A combination of two types of classical music. The European arias of the Italian opera are interpreted with the melodic, harmonic and rhythmic elements of jazz."
"Truly a unique combination of Italian classics and American Jazz. Jay's remarkably sensitive playing is displayed here in a perfect setting."
"While on rare occasions others have attempted to integrate these disparate musical forms, no one has been as successful as Jay in using distinct signatures from each-- strings and drums--and presenting just the right balance of melody and improvisation in his arrangements."
"The proof that ["Ponte Novello"] was successful is that we discover new things in the original compositions inspired by his contemporary, daring and yet deeply respectful readings."


"Tuscan Prelude "

Classic jazz with elements of classical music blended into a sparkling musical experience for fans of all tastes and preferences.
"Jay D'Amico displays an exquisite touch, impeccable timing, and a remarkable sense of harmonic inventiveness. He is one of the most promising young pianists around today."
| | |
| --- | --- |
| | Mike Longo - Jazz Pianist |
"Jay D'Amico plays piano with a gossamer touch and canny sense of style . . . there is a certain shapeliness to each solo and a tangible sense of touch, like good sculpture."

"Nocturne"

Fusing classical concepts with Jazz in a dynamic and pulsating musical experience that will inspire repeated plays regardless of musical tastes.

| | |
| --- | --- |
| | Invention in E Minor |

| | |
| --- | --- |
| | Lullaby |
"Prelude in C minor is free in its form, typical of a Chopin prelude, and Invention in E minor uses contrapuntal melodies characteristic of Bach. On the other hand, ML Warmup, a tribute to Mick Longo, is based on a Lydian augmented mode and The Dove uses the bird's coo as its underlying theme."
| | |
| --- | --- |
| | David G. Berger, Ph.D, Jazz Writer |
If there is any one word that would describe the music of Jay D'Amico it would be "originality." I recall reading a book by Igor Stravinsky many years ago in which he stated that if there was any "gift" in music, it would be the gift of melody. Jay, with his ability to successfully fuse classical music thinking and the time conception and influence of jazz, displays evidence that he is in possession of this gift and has crafted it into a musical statement of the highest order. BRAVO!
| | |
| --- | --- |
| | Mike Longo - Jazz Pianist |